Station: Dundee, MI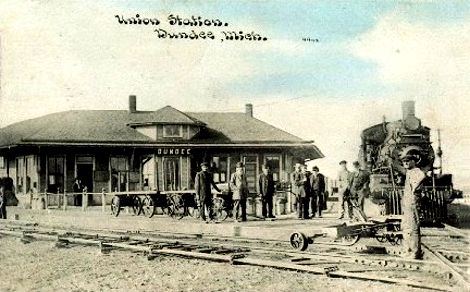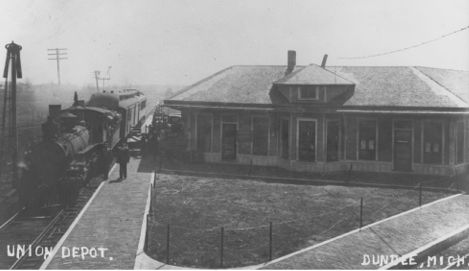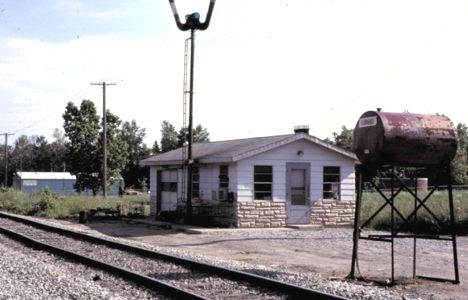 Dundee was settled about 1823 in northwest Monroe County. It was originally known as Van Ness's Mills and then Winfield. Dundee became a village in 1855.
Dundee's sole remaining railroad line is the Ann Arbor railroad which came through here enroute to Ann Arbor and Frankfort, Michigan in the 1870's. However several other railroad lines came through in an east-west direction, many using the same right-of-ways. First was the Canada Southern line which crossed the Detroit River at Grosse Isle and headed southwest towards Chicago via Flat Rock, Carleton, Maybee, through Dundee and Petersburg, Morenci and running out of money at Fayette, Ohio. After this line declared bankruptcy and pulled up its rail, the Detroit & Lima Northern used this right of way east of nearby Durban. The DT&I origially leased the DT&M line from Tecumseh to Duneee and Durban and then east on to Delray in Detroit. The DT&I also look over an ill-fated interurban railroad grade from Toledo to Petersburg and Dundee for a branch line to the Toledo Terminal.
When Ford purchased the DT&I in the 1920's, he built a more direct route south from Durban to Malinta, closing down the DT&I routes through Dundee. This left the Ann Arbor as the only railroad in the village.
Photo Info/Credit: Top, a postcard view of the union station in Dundee. The pipes running next to the rails connect to the signals at the interlocker. 2nd photo, another view with a passenger train . 3rd photo, a replacement depot, taken in 1979. By this time, the building housed an agent/operator as passenger traffic had disappeared. [Charles Geletzke Jr.]
March 21, 1930: The Michigan Public Utilities Commission grants to the DT&I the authority to discontinue the leverman at their interlocking with the Ann Arbor Railroad, on account of no scheduled trains any longer between Durban Junction and Dundee. The DT&I advised that in the future, they will rarely use the interlocking and in such cases they will have the DT&I operator at Dundee operate the interlocker. Signals to be normally set for the Ann Arbor railroad. The AA agrees with the petition. [MPUC-1930]
April 16, 1930: The MPUC grants discontinuance of the DT&I between Durban Junction and Dundee. The Commission notes that the town is still served by the AA and the NYC (DT&M] from the west. [MPUC-1930]