Station: Lake Harbor, MI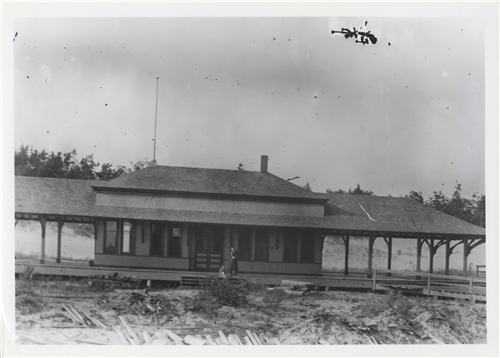 Lake Harbor had grown into a major summer destination with several large hotels, including the Lake Harbor Hotel, which was considered second only to the Grand Hotel at Mackinac Island in Michigan in stature. The hotel was large enough to accommodate over 1,000 guests. The town was also the location of the Hackley Assembly Grounds which hosted major Chautauqua type events including the state assembly of the Methodist Episcopal churches, the state assembly of the Women's Christian Temperance Union, the International Order of Good Templars, the National Sabbath Union, and the Michigan State Teacher's Association.
Photo Info/Credit: The Lake Harbor depot, reportedly in 1892. [Lawrence Carlson collection]
The Lake Harbor railroad was formed to serve Lake Harbor, and was finished in August of 1892, and was immediately filled to its passenger capacity.
The railroad operated from Muskegon, along the south side of Muskegon Lake on the tracks of the former Muskegon Lake Railroad which had been built in 1881 to serve the lumber industry, and acquired by the Chicago and West Michigan in 1886. The MLR tracks terminated at the Muskegon harbor entrance at Port Sherman, also known as Eldred's due to the presence of the large Eldred Lumber Company mill at the location.
At the end of the 1895 summer season, disagreement among the management of the Hackley Assembly Grounds resulted in the dissolution of the association, and the liquidation of the property. The Methodist Episcopal state assembly announced its move to Ionia, a more central location, and the general economic fall-out from the Panic of 1893 had resulted in greatly reduced attendance to events at Lake Harbor.
While storm damage had caused some significant track washouts and repair expenses in the previous years, the Chicago & West Michigan decided to dissolve the Lake Harbor due to the C&WM's heavy investment in its Ottawa Beach resort at Holland, which was suffering from depressed leisure business. The railroad was concerned that there would be no further events held at Lake Harbor as the assembly grounds situation was in limbo, and Lake Harbor as a community was too small to sustain a railroad on its own. The C&WM, having greatly expanded into other markets, had no special interest in the area, and the Lake Harbor only served the C&WM's competitors in the hotel and resort business when operational.
[From Mark Henricks and the Muskegon Railroad Historical Society]