Station: Johannesburg, MI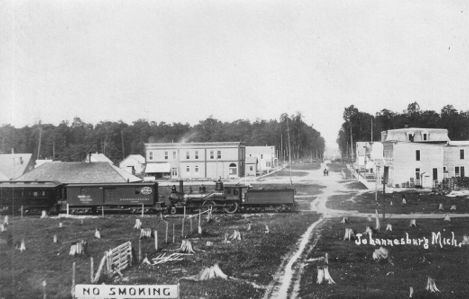 Johannesburg was settled about 1901 with a sawmill operated by the Johannesburg Manufacturing company. [MPN]
The town was on a Michigan Central branch line reached off the main line by a junction via Sallings south of Gaylord. Johannesburg is located about 12 miles east of Gaylord in western Otsego County.
Photo Info/Credit: Top, a Michigan Central mixed train works in downtown Johannesburg in 1906. The photo appears to have been taken shortly after a fire which appears to have burned right up to town. The Johannesburg depot was rebuilt in front of where the box car is located on the train. After the rails were pulled up, this depot became a popular restaurant. It was hit by an automobile in the early 2000's and destroyed. [Mark Worrall collection]
In 1911, Johannesburg was the end of the Bagley Branch and had a 900' passing track here. The town was served by one round trip first class passenger train, #91 and #92 daily except Sunday.
---
Industry:
Johannesburg Manufacturing Co. - until at least 1947.