Station: Garfield, MI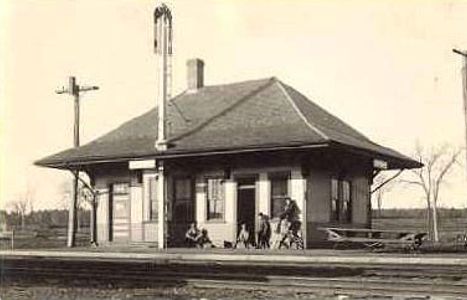 Garfield was a lumbering town which was settled about 1870 in Saginaw County. [MPN] It was located on the Jackson,Lansing & Saginaw (later MC/NYC/PC) railroad four miles north of St. Charles.
Photo Info/Credit: Top, the Michigan Central depot at Eastwood which was adjacent o Garfield, southwest of Scan Creek. [Alan Loftis collection]
---
1920 - IN THE MATTER of THE APPLICATION OF THE DI VISION SUPERINTENDENT OF THE MICH IGAN CENTRAL RAILROAD COMPANY For PERMISSION TO DISCONTINUE THE TICKET AGENCY AT GARFIELD, MICHIGAN.
The Commission, after due consideration of the application and the conditions surrounding Garfield Station and the necessity for the main taining of an agency at this point, have determined that the request is a reasonable one, and,
THEREFORE, IT is HEREBY ORDERED: That permission be and the same is hereby granted to the Michigan Central Railroad Company to discontinue the ticket agency at Garfield, Michigan, subject to the following conditions, to wit: That their station at Garfield be kept in a sanitary condition, heated and lighted for the accommodation of the patrons of their railroad.
MICH IGAN IPU BLIC UTILITIES COMMISSION