Station: Manton, MI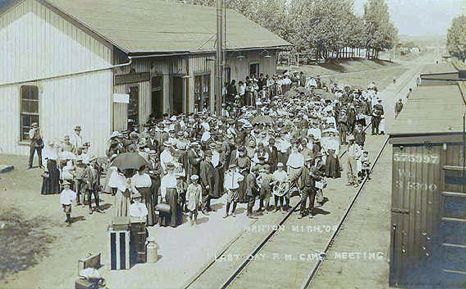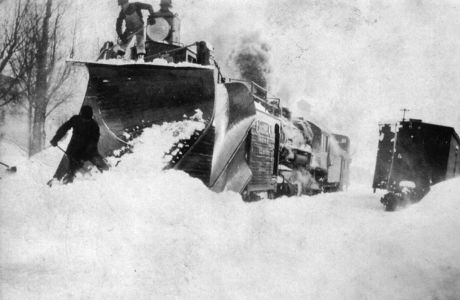 Manton was first called Cedar Creek when it was founded in 1870. The town became a village in 1877 and a city in 1923. [MPN] Manton was a station on the Grand Rapids & Indiana railroad about 12 miles north of Cadillac.
Photo info/credit: Top, A 1908 photo of the GR&I depot at Manton, marked "Last Day F.M. Came Meeting". Readers suggest that the comment suggests that perhaps this was the last day of the Free Methodist Campground for the season. 2nd photo, a 1907-1908 winter view of plow operations at Manton. [Mark Worrall Collection]
Manton was a passenger stop on the GR&I as late as 1917 according to Jim Rafferty. He points out that outdoor religious revival meetings lasting several days were popular in the United States from the 1850's through the turn of the century. "While a number of denominations held such meetings, the American Holiness movement was particularly active in this period putting on such meetings". Reader Ed Powell points out that the Free Methodist Campground still operates today (2007) and is located 1/2 mile east of Manton, along the Cedar Creek on County Road 600. It still hosts summer camps and revival meetings.