Station: Grand Marais, MI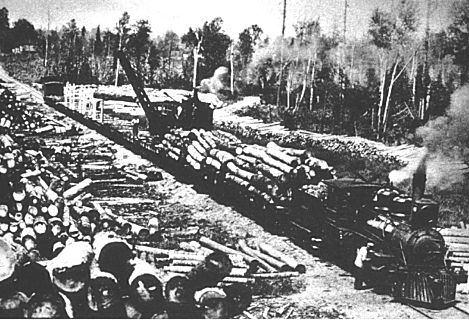 Grand Maris on Lake Superior in Alger County was first noted on early maps in 1660. A permanent settlement began after the Civil War. The village was platted in 1884. The town was the center of logging operations as the forests around Grand Maris were harvested. The Manistique Railway ran north to this town from Schoolcraft county via Seney.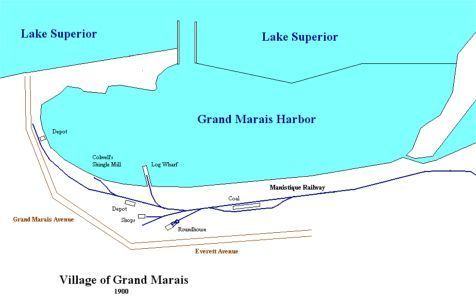 Photo info/credits: The top drawing was copied from a 1900 blue print in the State of Michigan Archives, showing how the Manistique Railway entered the town. [Dale Berry]. The photo is of a logging train somewhere between Grand Marais and Seney, provided by Gregg Bruff, Park Ranger at the Pictured Rocks National Lakeshore, US Park Service. This photo is located in the Park's museum collection.
---
Industry
Cook, Curtis & Miller mill - (1906 → xxxx) - enough timber for 15 years. [AML-1/13/1906]
Marais Lumber Co. (xxxx ← 1906 → xxxx) - Cuts for the Manistique Lumbering Co. and the Eddy Land Company. Suspends operation in the winter.