Interlocking: Center Street Tower, Bay City, MI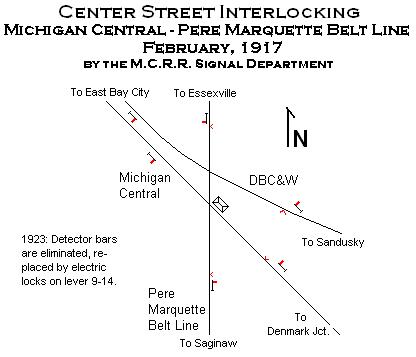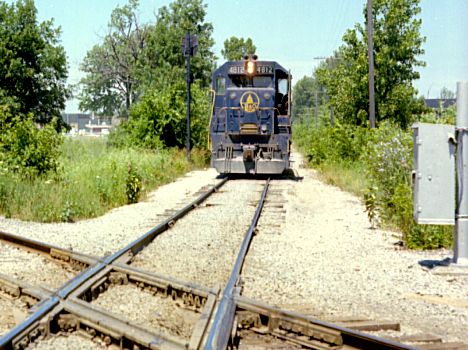 Center Street Interlocking in Bay City protected the crossing of the Michigan Central Bay City Branch and the Pere Marquette/C&O Belt Line to Essexville. Originally operated from a tower in the northeast quadrant of the crossing, it also controlled the Detroit, Bay City and Western railroad which was a late comer to the area. At some point after the DBC&W was removed, the crossing was converted to an automatic interlocking and the tower removed.
Photo info/credit: Top, a drawing of the interlocker in 1917 copied from the Michigan Archives. [Dale Berry] Bottom, B&O 4812 powers a southbound empty coal train on the Chessie System tracks at Center Street in the late 1970's. [Bob Smith]
---
1924 - In the Matter of the Application of the Pere Marquette Railway Company for Permission to Change the Locking in the Interlocking Plant on Center Street in Bay City at the Crossing of the Pere Marquette, Detroit, Bay City and Western and Michigan Central Railroads so that the Interlocking Plant May be Set Against Traffic on the Pere Marquette Railway and Clear for Traffic on the Michigan Central and Detroit, Bay City and Western Railroads During the Night Hours. 2587. November 19, 1924.
In said application the Commission is advised that the reason for this request is that the Pere Marquette Railway Company do not operate any trains over this crossing at night time and, therefore, it is desirous of discontinuing the third trick leverman and request permission from this Commission to make such changes;
The dog chart showing such changes is referred to as S-B 776-II) L which has been approved by the Signal Engineers of the Michigan Central and Pere Marquette railroads and by the officials of the Detroit, Bay City and Western Railroad; The Commission, after due consideration of said application together with the information contained therein, has concluded that the request be granted:
THEREFORE, That permission be and the same is hereby granted to the Pere Marquette Railway Company to change the locking in the interlocking plant at the crossing of the Pere Mar quette Railway, Detroit, Bay City and Western and Michigan Central railroads on Center Street in Bay City according to dog chart S-B 776-II) L. MICHIGAN PUBLIC UTILITIES COMMISSION