Interlocking: North Bay City Tower, MI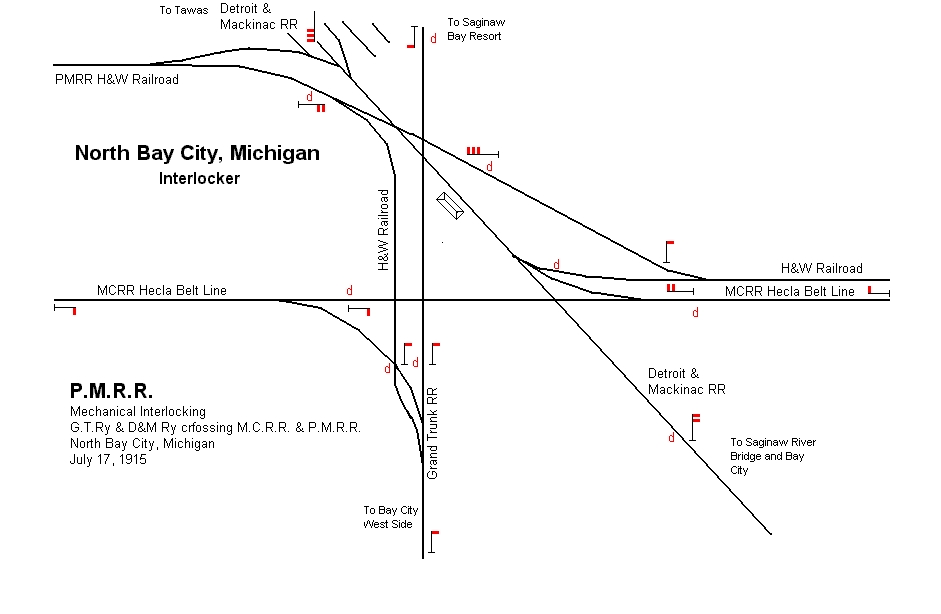 North Bay City was an interlocked crossing of the Detroit & Mackinac railway main line and several branch lines.
Orginally in 1896, this was just the D&M main line and the CS&M (GTW) line north to Wenona Beach. During this period, the interlocking consisted of two ground-level levers, controlling derails on the CS&M line only, as well as lower quadrant semaphore masts on both lines in all directions. The Hecla Branch crossing was added in 1902. [MRL] and in 1903 the Pere Marquette (Huron &Western) line crossed, allowing the PM to reach the Wolverine coal mine northwest of Bay City.
The MC Hecla Branch (between Wenona and Hecla Portland Cement) crossed, as did the GTW line from West Bay City to Oa-At-Ka Beach. The Pere Marquette line from Foss (via the D&M) branched off here to the west and on to Tower 12 and a PM coal mine about 6 miles west of Wenona.
This crossing had a series of changing protection and control. Originally a stop and proceed operation, it ultimately received a full interlocking with tower. This was later downgraded over the years to half interlockers, back to ground levers, and then back to stop and proceed before all of the crossings were removed. Today, the D&M line (now Lake States) continues to exist, and a portion of the Hecla Belt line branches off the the east to serve an industrial park, but no crossing exists.
Nearby in 1942, the D&M had a 4-stall roundhouse, coaling station and ice house which was 800' north of the drawbridge on the northeast side of the track. (Note: the D&M discontinued use of steam locomotives about 1946. The railroad then built a diesel engne house in the yard, still used by the LSRC).
In 1945, the crossing tower at this location had a 8-lever Saxby & Farmer improved interlocking machine that had 2 active levers and one electric timer.
SNAPSHOT: In 1959, in a filing with the MPSC to eliminate the interlocking protection, the railroad noted that there were no passenger trains (gone since 1950), five northbound and five southbound D&M freight trains daily, three north and three southbound C&O trains, and a single GTW round trip freighy through this crossing. D&M utilized a train order system through here, but the NYC Hecla Branch was operated under yard rules. They asked permission to install stop signs in place of derails and signals, which was approved.
The CS&M (GTW) line through here was known as the "Wenona Branch Spur".
The D&M North Bay City offices were located near this crossing. The building continues to exist and is used by the Straits Corporation for their lumber operations. D&M's North Bay City Yard began just north of this crossing, and their wye and drawbridge was just south. The Dow Chemical Company built plastic manufacturing facilities northwest and northeast of the crossing.