Station: Freedom, MI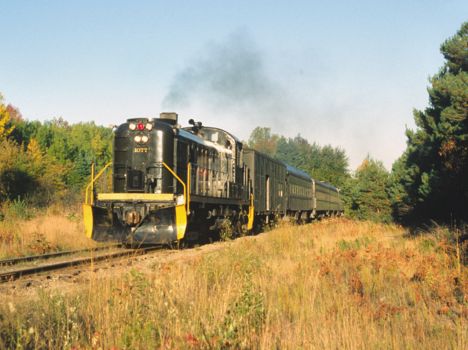 Freedom was a hamlet near Lake Huron, about four miles southeast of Mackinaw City in Cheboygan County. It was settled in 1875. The town was a station on the Michigan Central railroad.
After service on the MC line to Mackinaw was withdrawn, the line north of Sallings, MI (Gaylord) was purchased by the Detroit & Mackinac railway. The D&M operated both lines into north Michigan (the old MC and the D&M) and serviced the railroad car feery in the Straits of Mackinac.
Photo info/credit: D&M 1077 heads southbound near Freedom with a special passenger train, October 7, 1980. [Neil Plagens]
---
Timeline:
1917. The MC had a operator/clerk here during the day shift. [TRT]