Station: Escanaba, MI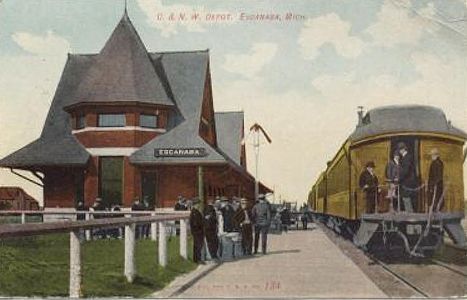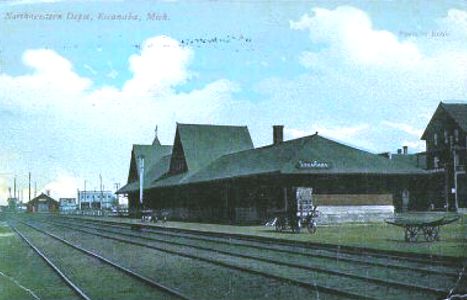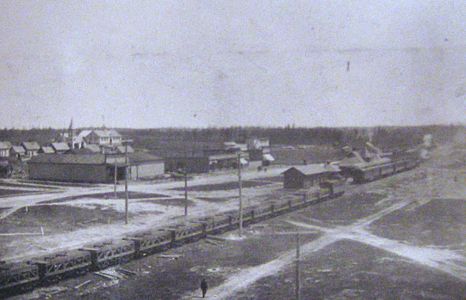 Escanaba is a major city in Michigan's Upper Peninsula, and the county seat of Delta County. It was called Esconawba in 1854 when it was settled, but changed to Flat Rock briefly in 1864. It became Escanaba in 1875. It was home to several ore docks over the years and now has a large CN ore loading facility here. The town became a village in 1866 and a city in 1883. [Note: As of 2018, the ore facility is inactive].
Escanaba has been a major ore loading facility for ore from various Michigan ranges heading south to the iron and steel plants near Gary, Indiana. This was also a desirable route because the lake did not freeze here as it did in Marquette. In addition to ore, Escanaba was a major coal unloading facility.
The original railroad through the area, called the Peninsula Railroad, was soon renamed the Chicago & North Western. The original line ran from the port north to Ishpeming. This was then connected to Green Bay by another line which reached Escanaba via Powers. A third C&NW line, the former Escanaba, Iron Mountain & Western Railroad, reached Escanaba from the Iron Mountain area. Under C&NW ownership, this was known as the "Ore Line".
Escanaba was also served by the Escanaba & Lake Superior railroad, but it's presence was minimal as it's main facilities were north of town at Wells, Michigan. The E&LS Escanaba depot was located close to the C&NW depot for passenger convenience purposes.
The C&NW had division offices in Escanaba for many years. In the 1950's, it established a modern office building near the company's diesel and car shops on the northwest side of town. The ore line's dispatcher was also located here until dispatching was regionalized by the CN, which took over the line.
Photo info/credit: Top, a postcard view of the C&NW depot in Escanaba with a passenger train loading, around 1908. 2nd photo, another photo of the expansive depot. 3rd photo, a birds-eye view of the depot and the IXL store on the Earle Block, date unknown.
The C. Reiss Coal Company acquired its first dock for loading coal in Escanaba in 1899. In 1925 they installed a Meade-Morrison loading bridge. It was a structural steel framework sits on a base of 60' wide with the base moving along tracks which run the length of the dock. The loader was approximately 300' wide bbetween the two plarallel tracks. It had an unloading capacity of 4,000 tons per day. [UPM]
---
Industry
Stephenson Company - (xxxx → 1906 → xxxx) - dry kilns and hardwood plant. Produces "Ideal" maple flooring. [AML-1/13/1906]
---