Station: Iron Mountain, MI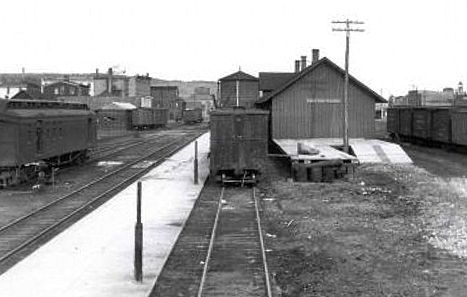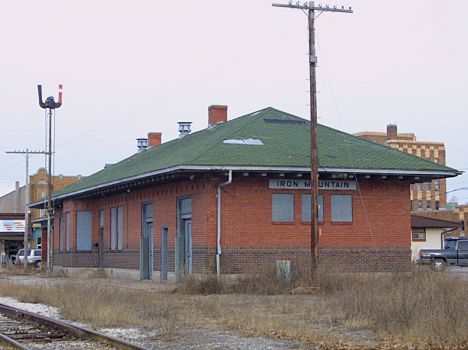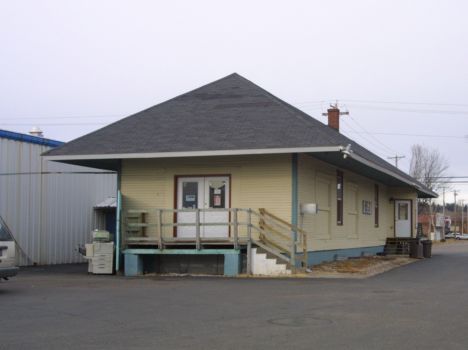 Iron Mountain was settled around 1877 near the Chapin Mine in Dickenson County. The town became a village in 1887 and a city in 1889.
Iron Mountain had several railroads serving it. The Chicago & Northwestern (CNW) came from Escanaba via Powers in 1877. That line continued west via Antoine and Florence, Wisconsin in 1880 reaching Iron River (and Crystal Falls via a branch) in 1882. The Milwaukee Road came north from Green Bay in 1887. Another route from Escanaba to Antoine was built in 1891 and quickly became a CNW branch line allowing two routes for ore cars in and out of the Iron Mountain area. The Wisconsin and Michigan railroad reached the area around 1903.
Photo info/credits: Top, an old photo of the Milwaukee Road freight house at Iron Mountain. This building stood east of the passenger station across C Street. The freight house was the original MILW passenger station. It was torn down sometime in the 1970's. [Greg Bunce]. 2nd photo, the MILW Ion Mountain depot. It still has semaphore signals in 2003 under E&LS control. [Dale Berry] 3rd photo, the Wisconsin and Michigan freight house which is located near the MILW depot. The W&M used the MILW passenger station for their trains. [Dale Berry]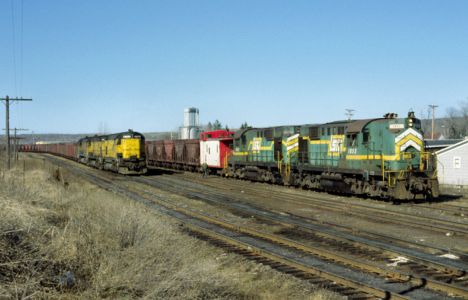 Photo info/credit: 4th photo, CNW and E&LS ore trains pass at Iron Mountain. April, 1980. [Neil Plagens]
The MILW and C&NW both had water towers at Iron Mountain. The C&NW had a tank with two spouts at the east end of the yard in Antoine (between the legs of the wye) and the MILW had a water column east of their depot. [GB]
---
Timeline
1889. C&NW Station. The C&NW station at Iron Mountain was built in 1889 at 310 Stephenson Avenue. It is a single-story rectangular brick building resting on a finished ashlar foundation and is 20' by 75' long with a gabled roof and wide overhanding eaves supported by wooden brackets. It still exists as a retail business. [UPM]
1890. MILW Freight house. The Milwaukee Road built a freight house on East C Street at Iron Mountain about 1890. [UPM]
1895. The freight station was the former passenger station and was built in 1895 at Fourth Ave. and Third Street, It was a simple wood structure, single floor with a gabled roof. It was 30' by 90' with six 15' doors facing the tracks. [UPM]
1909. The Wisconsin & Michigan railroad uses the MILW depot at Iron Mountain. [MCR-1909]
1910. The Milwaukee Road station here was built about 1910, replacing the former station which became a freight station. The new station was rectangular 25' x 100' with a hipped roof and an adjoining covered passenger platform 25' wide and 30' long. The station still exists. [UPM]
1918. The MILW had an operator at Iron Mountain depot around-the-clock. The C&NW had a station agent during the day at Iron Mountain. [TRT]