Station: Calumet, MI (Formerly Red Jacket)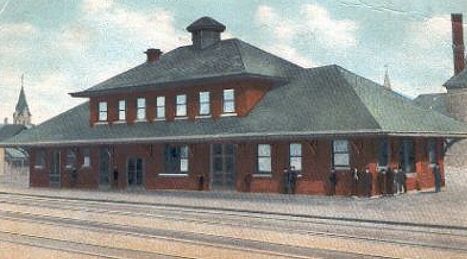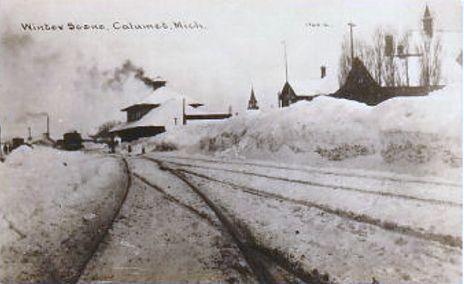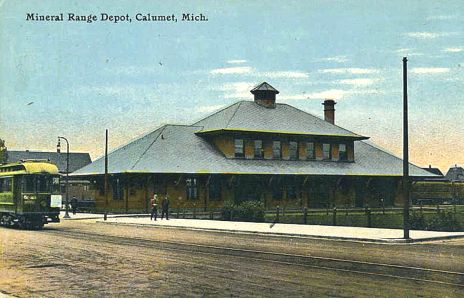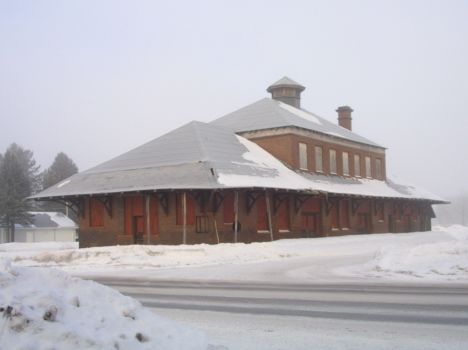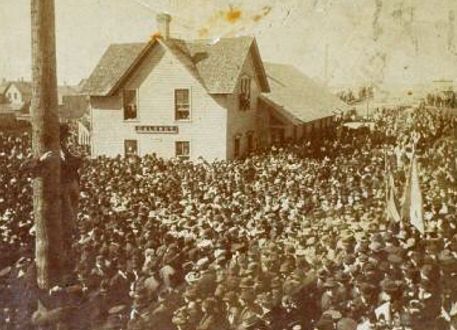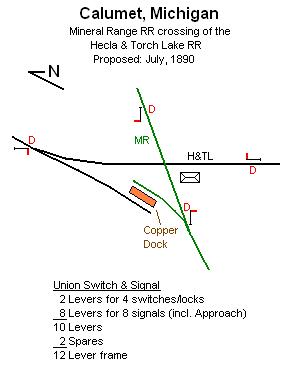 Calumet is located in northern Houghton County and at one time was the center of the largest copper mining operations in Michigan. The town was originally settled in 1866 around the Calumet Mining Company, which fairly rapidly merged with the Hecla Mining company to become the C&H.
The town was originally called "Red Jacket". The name was formally changed in 1929 to Calumet. [MPN]
Note: Nearby Laurium, MI was also known as Calumet until it was changed to Laurium in 1895.
At the turn of the century, the Calumet area was the third most populated region in Michigan, behind Detroit and Grand Rapids. Today, Calumet has about 1,000 people.
Photo Info: Top, a postcard view of the Mineral Range depot in Calumet. 2nd, a winter scene of the MR depot. 3rd, a photo of the same depot with the interurban train nearby. [Alan Loftis collection], 4th, a 2003 photo of the depot. [Dale Berry], 5th photo, a photo of the town saying goodbye to the Light Guard which is heading out by train to Cuba on June 25, 1898 at the old depot in Calumet. 5th photo, a map of the Mineral Range crossing of the Hecla & Torch Lake railroad crossing in Calumet, as drawn from a blue print in the State of Michigan Archives. [Dale Berry]
The DSS&A station in Calumet was built about 1910 on Oak Street. It was a rectangular brick passenger station 33' wide and 110' long with hipped roofs and overhanging eaves supported by wooden brackets. The center of the station, 45' long, is two stories while the rest is one story. [UPM]
---
Time Line
1867. Red Jacket was described as a "rough primitive community with little to offer, beyond the basic necessities of life". The 'hotel' was scarcely more than a log cabin at the edge of a privmeval forest. [DMG-2021-1106]
1886. A new Hancock & Calumet railroad depot opens in Calumet. It closes in 1888. [ SOO-2022-Q1]
1870. Two-thirds of the village of Red Jacket was destroyed by fire. Hundreds fled with possessions they could carry. [DMG-2021-1107]
1873. The original Mineral Range depot here was the Streeter Hotel. Early depots at Hancock and Calumet were described a "tumble-down" sheds not fit for cattle. [ SOO-2022-Q1]
1908. Summer. Construction begins on the new Red Jacket depot, a two-story building with divisional offices on the second floor. It was ready to be opened on December 10, 1908. [ SOO-2022-Q1]
1910. September. An organ arrives via the COPR. The new pipe organ for the Pewabic M.E. church arrived Saturday via the Copper Range railroad. It came from the factory at Pekin, Ill. and arrived in first-class condition. [ CN-1910-0919]
1940. The seperate passenger and freight facilities at Calumet were amalgamated into the existing passenger depot. Passenger equipment laying over was heated by a passenger locomotive instead of the depot's heating plant. [ SOO-2022-Q1]